Dental implants are growing in popularity and patients visit our state-of-the-art Harley Street clinic in London from across the UK and around the world to ensure that their smiles get the very best treatments and improvements.
This includes treatments from a single missing tooth, to multiple missing teeth or full mouth implants.
The advantages of dental implants, also known as tooth implants, over traditional tooth replacement treatments are numerous but the best evidence of this is in the results themselves.
Our patients are usually thrilled with the difference dental implant placement can make to their smiles and their self-confidence.
We have some stunning before and after dental implants photos taken by our highly experienced specialist Implantologist to share with you.
These will help you to appreciate the difference a visit to our Harley Street clinic can make to your smile, confidence and your lifestyle.
Dental implants can replace a missing tooth
Even a single missing tooth can have an impact on how you feel about your smile and the way you communicate with other people. Many of our patients report a gain in self-confidence following completion of dental implant treatment.
The before after dental implant photos below tell their own story.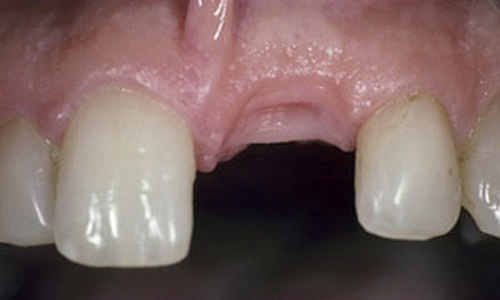 Before Treatment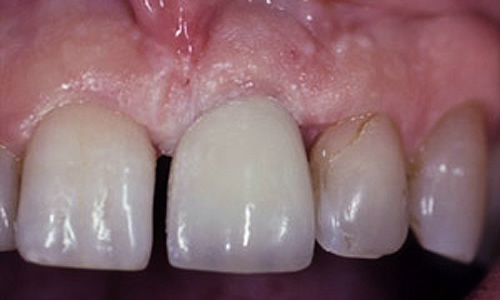 After Treatment
This 34 yr old lady was not happy with her denture which replaced the front incisor. A dental implant was used to provide her with a fixed aesthetic solution.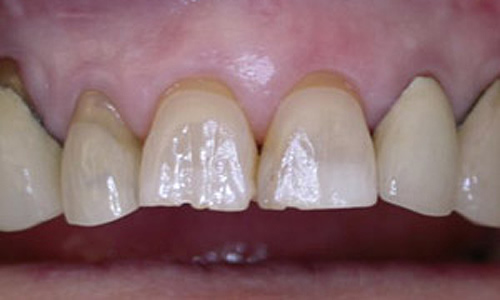 Before Treatment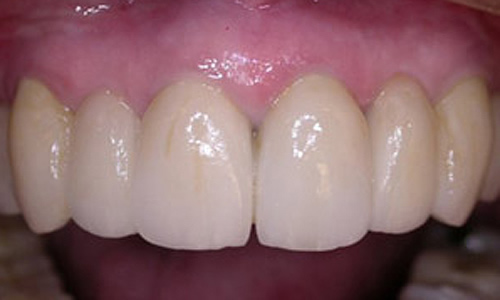 After Treatment
This 76 year old lady was not happy with the ongoing breakages of her upper teeth which she eventually lost through untreated gum disease. all her upper teeth were replaced with crowns and bridges supported by dental implants.
Dental implants make strong and long-lasting smiles achievable for everybody
Not only do dental implants, completed at our London Harley Street clinic, have a definite and measurable impact on patient confidence, they also form a long-lasting solution to tooth replacement issues with different types of dental implants for different situations.
Whereas dental bridges and dentures need adjustment and replacement over time, dental implants fuse with the bone in your jaw to form a permanent and enduring replacement root.
Take a look at the before after dental implants images below to see what we mean.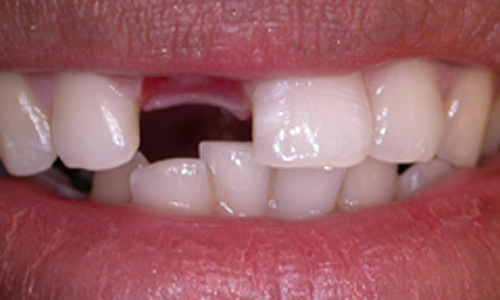 Before Treatment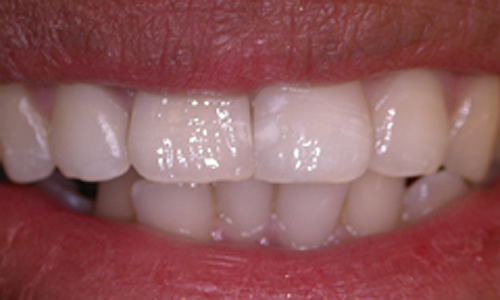 After Treatment
This 45 year old gentleman lost his upper incisor due to a root fracture, this tooth was replaced with an implant 4 months following the extraction.
Dental implants can even improve your oral health
One of the many advantages of tooth implants is that they can be cleaned and looked after in exactly the same way as your natural teeth. We recommend that all of our dental implant patients visit our Harley Street clinic for hygiene and implant check ups following treatment completion.
Teeth implants also help avoid all of the removal and specialist cleaning required with dental bridges and dentures.
The before after dental implant photos below show just how neat and sparkling dental implants can make your smile.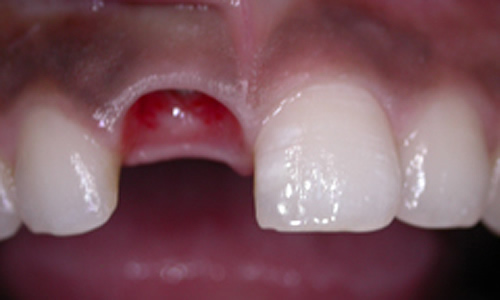 Before Treatment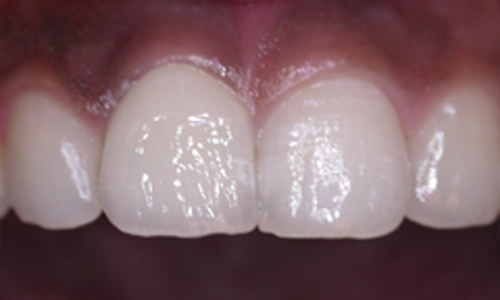 After Treatment
This 32 year old lady suffered from multiple episodes of infection from her incisor which was untreated and was extracted. this tooth was replaced with a dental implant which provided her with a healthy smile.
Dental implants can improve bone loss
One of the unfortunate effects of having a missing tooth or teeth is that bone loss can be accelerated either by the lack of stimulus from chewing, which usually promotes bone growth, or infection. If facial bone loss is pronounced it can, in time, lead to severe consequences such as facial collapse.
Dental implants give the jawbone a replacement tooth, which is capable of exerting a natural level of pressure. This, in turn, promotes healthy bone growth.
Bone growth is stimulated further when bone grafts are used to strengthen the jawbone before dental implant placement (this is not necessary for all patients). Our photos showing before after dental implants images will demonstrate this.
Most dental implant patients who visit our Harley Street clinic don't require additional bone grafts.
However, all of our clients can be assured that the level of expertise of our experienced dental consultants is such that all manner of tooth replacement issues can be dealt with through our process of detailed consultation and specialist dental implant placement.
Put your smile in our hands and you will find yourself thrilled with the results.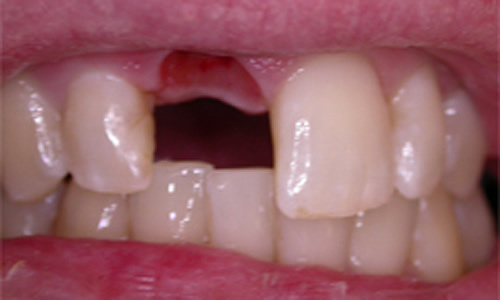 Before Treatment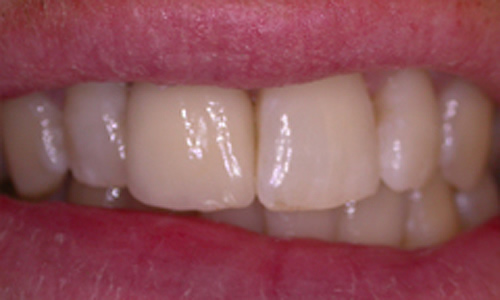 After Treatment
This 26 year old gentleman lost his upper incisor through trauma. this tooth was removed and and implant placed on the same visit. the final ceramic crown was delivered 4 months later.
The cost of dental implants varies from person to person, so you would need a consultation for detailed costs but you can view our standard dental implants costs.
If you want to ask us any questions about dental implants or about our dental implant procedure please contact us.
dental implant review via Google my Business
Tooth removal Reviewed by Payam Sanei on "Dr Sanei is extremely gentle, and very professional. I immediately feel comfortable in his hands and can trust him with the treatment. I am beyond PLEASED with my crowns and implants looking SUPER NATURAL."
Rating: 5

For more information on dental implants please also see: