If you're looking for some of the best dental crown or bridge treatment in London from a highly experienced specialist, our 5* rated state-of-the-art Harley Street dental clinic can help.
Our principal dentist and specialist prosthodontist, Dr Mehran Sanei (GDC No. 67683), who performs the crown and bridge treatments, is also recognised by the American Dental Association as a Specialist in Prosthodontics.
With over 28 years of extensive dentistry experience, he has also given national and international lectures on Cosmetics and Implantology. He has been an active member of the American Dental Society of London since 1999.
Our highly skilled team of dental crown and bridge specialists are all registered with the Generic Dental Council (GDC). Our clinic is also monitored and regulated by the Care Quality Commission (CQC) so you can rest assured you are in safe hands.
We specialise in the creation of dental crowns and bridges that not only look fantastic, but in many cases will last a lifetime.
Dental Crown Review via Google My Business
Dental crowns Reviewed by M Rahmani on "An incredible establishment, high quality of care and professional staff. From being greeted by Carmen, to having treatment by Dr. Sanei and having my hand held by his lovely nurse; I felt safe and in very good hands.

My crowns are natural looking and felt comfortable from day one. One of my back teeth was root treated by Dr. Rahbaran who managed to do a fantastic job despite my limited opening. The hygienist was also very thorough.I never thought I would actually look forward to my dental visits but I do now!"
Rating: 5

What is a dental crown?
A dental crown is a tooth-shaped 'cap' that sits over the weakened tooth to protect it. We use the procedure to help restore fractured, chipped or damaged teeth whilst ensuring the crown matches the rest of your smile.
A dental bridge also restores your smile and is used to replace one or more missing teeth.
Porcelain crowns are made from a variety of hardwearing materials. The type of material used will depend on the type of procedure you need.
Porcelain bonded to precious metal crown is made of a precious metal base. Porcelain is then applied in layers over the base.
Porcelain crowns are not as strong as the bonded style, but they can look very natural and are mostly used on front teeth. They are perfect for patients that do not grind their teeth.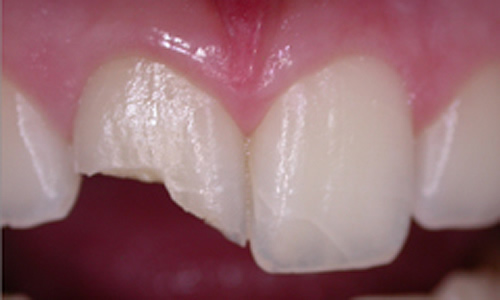 Before Treatment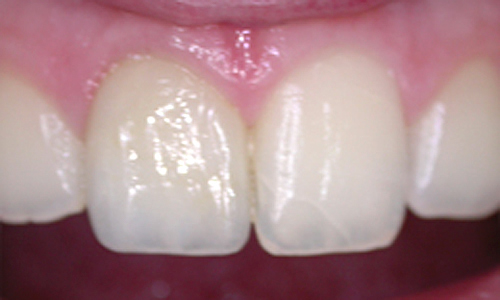 After Treatment
Porcelain and composite crowns are made of a resin material and can also look very natural. They are not as strong as bonded crowns and are used as a long-term solution for full mouth reconstruction cases. These crowns help the patient to get used to a repositioning of the bite.
Precious metal crowns are made from gold and palladium. They are extremely strong and hardwearing and are usually applied to the back of the mouth. Metal crowns are not visible and most suitable for people who grind and clench their teeth.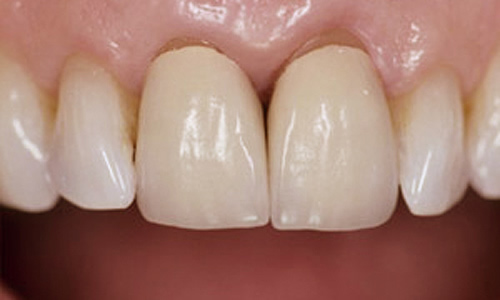 Before Treatment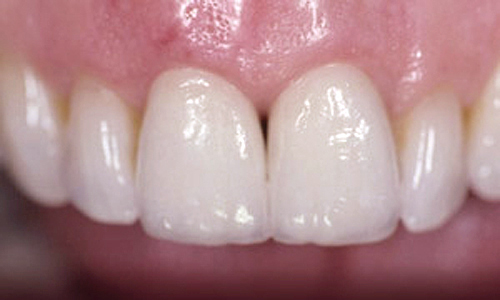 After Treatment
To create the perfect dental crown, we would need to take an impression of your teeth before sending it to the dental laboratory. Expert technicians handcraft your new crown and will make sure it matches your natural tooth shade.
During your second visit, we bond the newly prepared crown into place with a special adhesive.
To begin your dental crown treatment in London, please book an appointment with our specialist dental crown dentist so that we can assess the condition of your teeth. During your consultation, we will discuss the most suitable course of dental treatment for you.
Frequently asked questions
How much does a dental crown cost in London?
Our dental crown treatment prices are extremely competitve when compared to other London dentist prices, with prices for gold / porcelain crowns ranging from £1,350 to £1,550.
How is a crown made?
The tooth will be prepared to the ideal shape of the crown. This will involve removing most of the outer surface of the tooth leaving a core.
The thickness of the crown will be the same as the amount of tooth that has been removed.Once the tooth is shaped, an impression of the prepared tooth will be taken and one of the opposite jaw and another to mark the way you bite.
All the impressions will be sent to the technician to reproduce a crown that fits the tooth. A visit to the laboratory will be needed to match the crown's colour to the existing teeth.
The prepared tooth will have a temporary crown fitted until the new crown is ready. The treatment takes at least two visits to the surgery and one visit with the laboratory.
How long will a crown last?
You can expect a new dental crown to last 5-15 years, but for many it could be a lifetime. With regular dental health checkups and good hygiene your crown may last 25-30 years.
Why should missing teeth be replaced?
Replacing missing teeth improves the appearance and function of the mouth. The gap left by a missing tooth can put a greater strain on the teeth on each side.
The bite can be affected because the teeth on each side of the missing tooth can lean into the gap and alter the way the upper and lower teeth meet. Food can get into the gap and decay and gum disease will develop.
How are missing teeth replaced?
The placement of missing teeth depends on the location of the gaps and the condition of the remaining teeth. There are a few options to replace missing teeth.
A bridge is usually used where fewer teeth need replacing. An implant can be placed into the gap of the missing tooth or a partial denture.
How are bridges made?
A bridge is made by constructing crowns on the teeth on either side of the space, and joining these two crowns together by placing a false tooth in the space. The procedure is the same as the crown procedure.
The end result is very aesthetic and functional.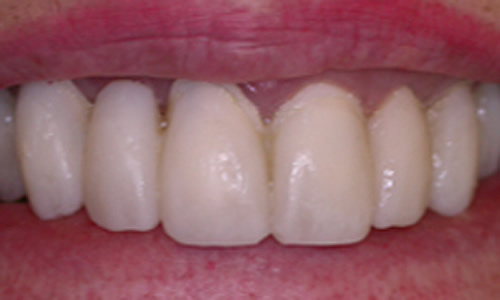 Before Treatment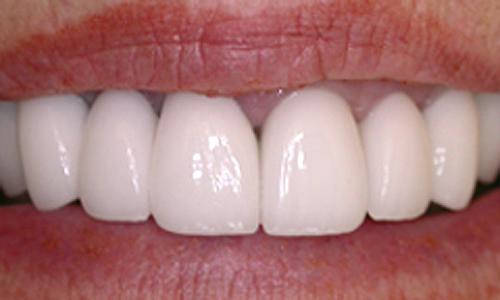 After Treatment